FOR IMMEDIATE RELEASE:
Friday, October 16, 2020
CONTACT: Liz Doherty
Forest Flashbacks: #NCGovDebate Shows Forest is Too Dangerous for NC
RALEIGH — Forest Flashbacks aims to provide a snapshot of Dan Forest's week in review. Here are the toplines from this week:
#NCGovDebate Shows Cooper is a Strong, Measured Leader; Forest is Too Dangerous for NC
On Wednesday, Governor Cooper and Forest faced off in a debate broadcast statewide and sponsored by the North Carolina Association of Broadcasters.

Roy Cooper is the clear choice for those who seek a governor who will put partisan politics aside to make the tough decisions based on science and data and keep North Carolina on the path to progress. 

Dan Forest, on the other hand, is committed to doubling down on his divisive social agenda and spreading misinformation about the virus to prop up his failing campaign.
"No Plan Dan" on Health Care
Forest is

on the record

for his plan on what he'll do for people who need access to health care: nothing.

Instead of fighting to ensure over half a million North Carolinians, including veterans, families, and those who have lost their health insurance during the pandemic due to job loss, No Plan Dan continues to

oppose

Medicaid expansion.
Dan "Masks Do Not Work" Forest on COVID
Forest once again

downplayed

the severity of coronavirus and further demonstrated he is far too dangerous to be governor.

During the pandemic, Forest has played politics instead of focusing on the health and safety of North Carolinians. Forest has

held

at least 50 in-person campaign events with no safety precautions,

spread

dangerous misinformation including "masks don't work with viruses," and

called

to lift the mask mandate and for schools to reopen immediately with no masks or social distancing.
Dan Forest's Education Plan: Public Schools Last
Forest's

priorities

for education are clear: rob public schools and allow millionaires to use that money to send their kids to private schools, put students and teachers in harm's way, and fail to invest in students, teachers, and schools — all while failing to show up to work as a voting member of the State Board of Education.
Dan Forest: Bad for Business, Bad for NC
Forest is

putting

our economy at risk by pretending the pandemic doesn't exist. He has said he wants to

eliminate

the mask requirement and

fill up

the schools no matter what with no safety plan. 

It's not only dangerous, it

contributes

to the virus' spread and poses a threat to our economy.
Dan Forest, 2012: "I will be there" for every State Board of Education meeting
While running for Lt. Governor in 2012, Forest

promised

that he would attend every State Board of Education meeting. He has

missed

nearly half of SBE meetings as Lt. Governor.

As Lt. Governor, Forest has

missed

nearly half of the State Board of Education meetings, 84% of State Board of Community Colleges meetings, over 75% of Military Affairs Commission meetings, and over ⅓ of Senate sessions.
Dan Forest Passes the 50 Mark on Number of Campaign Events Held During Pandemic
Dan Forest has

held

at least 50 in-person campaign events with no masks or social distancing during the pandemic. Many of these events have been held indoors with large crowds.

Forest has

disregarded

science and even shared with the press that his goal is to "shake as many hands as we can" and hold more in-person fundraisers.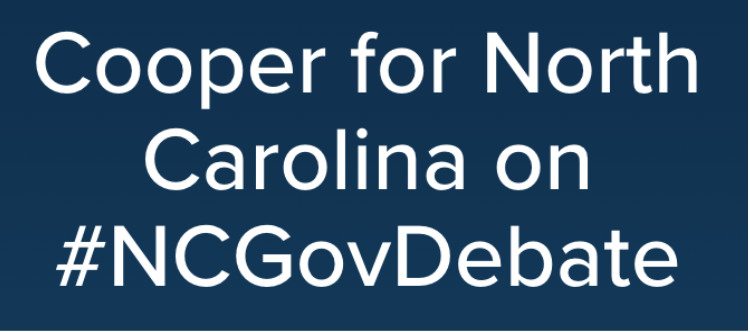 READ.

READ.

READ.

READ.

READ.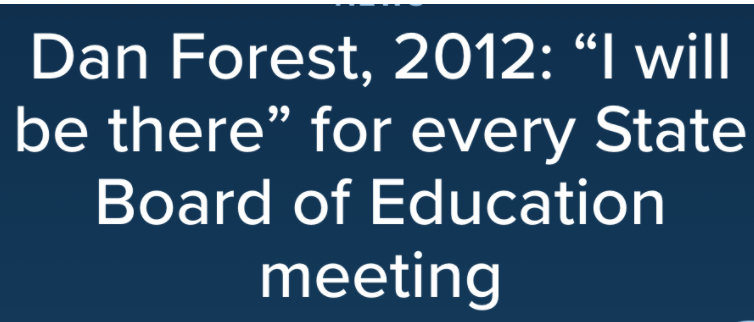 READ.