FOR IMMEDIATE RELEASE:
Friday, September 11, 2020
CONTACT: Liz Doherty
Forest Flashbacks: Forest Tries (And Fails) to Be "Trump of NC" To Boost Campaign, Suggests Again VP Biden "Is Not Gonna Make It" 
RALEIGH — Forest Flashbacks aims to provide a snapshot of Dan Forest's week in review. Here are the toplines from this week:
Forest Tries And Fails To Be The "Trump of NC" to Boost Campaign
The Daily Beast

painted

a scathing but accurate picture of Forest's candidacy for NC governor. Forest has proven himself a divisive candidate

committed

to spreading dangerous misinformation about the pandemic.

Forest has also

taken

an extreme stance on reopening and suggested on multiple occasions, largely at in-person and maskless campaign events, that Vice President Biden "is not gonna make it."
Forest Says (Again) VP  Biden "Is Not Gonna Make It" For Much Longer
Forest

suggested

that VP Biden "is not gonna make it" for much longer. This is at least the second time that Forest has suggested death is imminent for Biden.

The

Washington Post

previously

reported

"few have gone as far as Dan Forest" when it comes to attacking Biden's age, who is just 3 years older than President Trump.
75% of North Carolinians Support Medicaid Expansion, Forest Remains Opposed
A new Care4Carolina poll

found

that 75% of North Carolinians support Medicaid expansion, including 64% of Republicans, 76% unaffiliated voters, and 83% of Democrats.

Republican legislative leaders and Dan Forest have

opposed

Medicaid expansion at every turn, leaving North Carolina as one of only twelve states that hasn't expanded Medicaid.
CBS News: Forest has Held Dangerous In-Person Campaign Events
In a

profile

of the North Carolina governor race, CBS News

contrasts

Gov. Cooper and Forest's handling of the pandemic. 

While Governor Cooper has "looked to medical expertise as the crux for [his] coronavirus response,"

the story notes

, Lt. Governor Forest

has

disregarded the science and data and urged for "schools to fully open."

READ.

READ.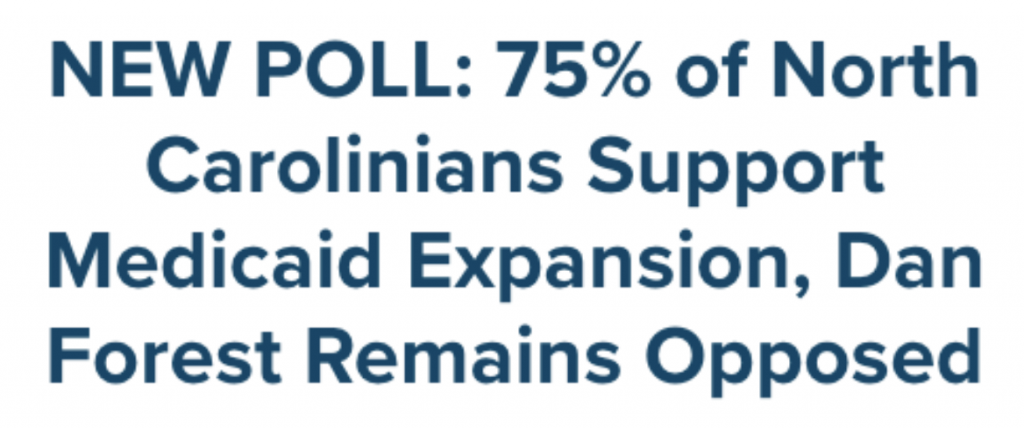 READ.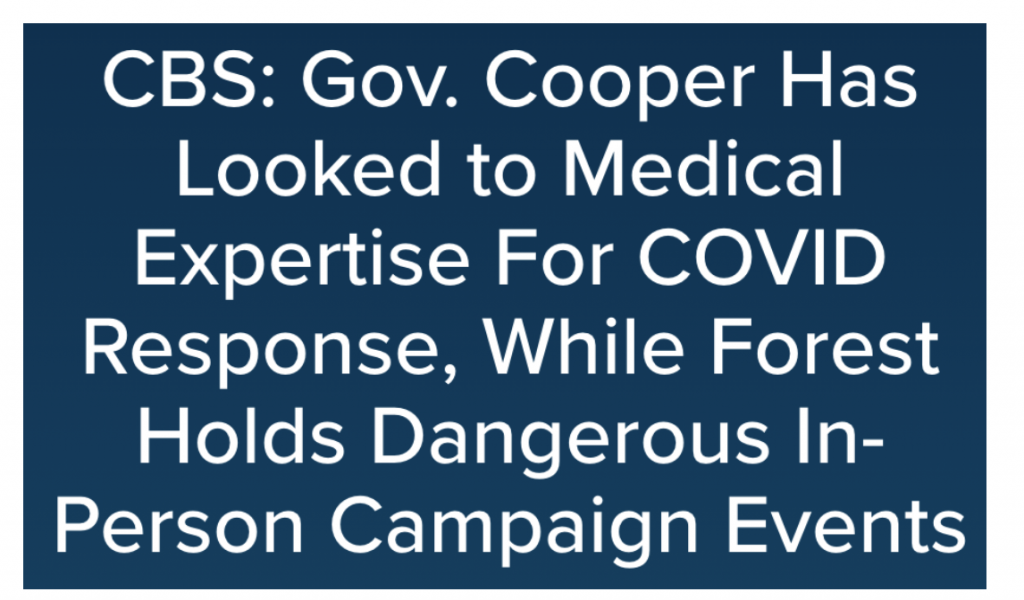 READ.
###