FOR IMMEDIATE RELEASE:
Wednesday, September 9, 2020
CONTACT: Liz Doherty
Dan Forest Says (Again) That Biden 'Is Not Gonna Make It'
The Post previously reported "few have gone as far as Dan Forest" when it comes to attacking Biden's age, who is just 3 years older than Pres. Trump
WINSTON-SALEM — Last night at President Trump's rally, Lt. Governor and Republican gubernatorial nominee Dan Forest suggested Joe Biden "is not gonna make it" for much longer. This is the second time Forest has suggested death is imminent for Biden.
Here's the full quote from last night:
"Y'know that, we don't even have to imagine what America would look like if Kamala Harris was president. 
"We all know that Sleepy Joe is not gonna make it. Not very long, anyway. 
"That's sad to say, but boy I tell you what, four years, eight years of Kamala Harris, America couldn't make it."
On August 25th, the Washington Post reported that Forest made a similar remark at an indoor, maskless campaign event, where he said that Vice President Joe Biden "probably won't make it" to Inauguration Day 2021. (Read more here.)
The Post noted that while attacks on Biden for his age have become a go-to Republican talking point, even though Biden is just three years older than President Trump, "few have gone as far as North Carolina Lt. Gov. Dan Forest."
In addition to making unthinkable comments about Biden, Forest has spread dangerous misinformation during the pandemic. He falsely claimed "masks don't work with viruses," and he continues to hold indoor campaign events with no social distancing or mask wearing. Forest recently announced his campaign will continue to "shake his many hands as possible" and carry on with in-person events, stating "it will be a lot more of this."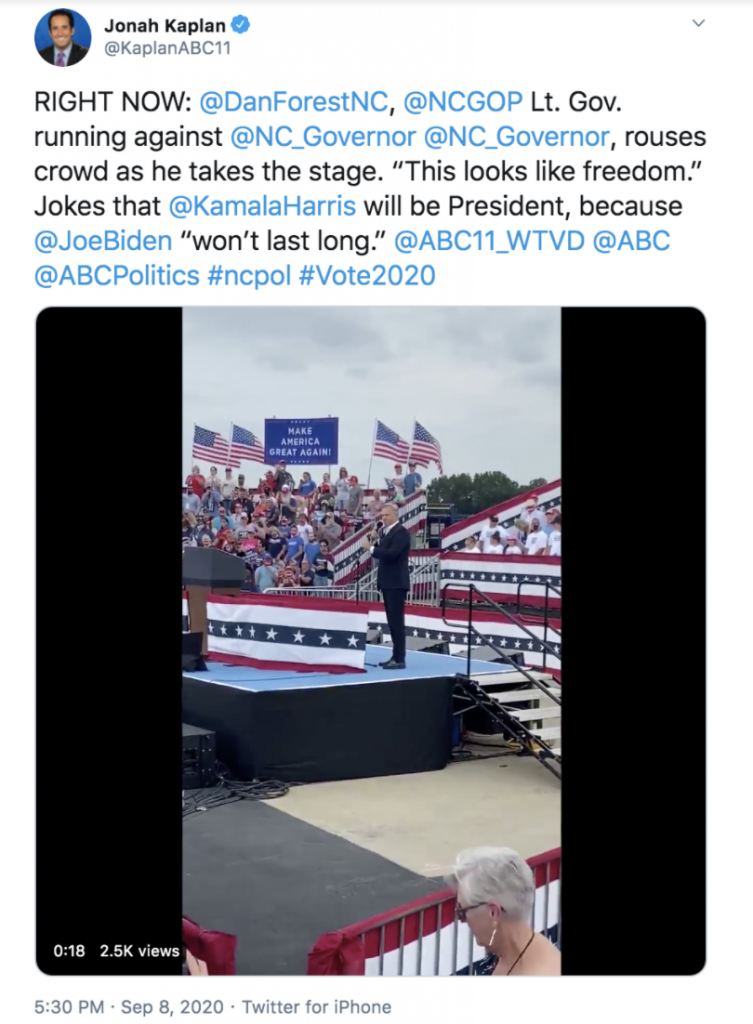 ###