FOR IMMEDIATE RELEASE:
Monday, September 14, 2020
CONTACT: Liz Doherty
NEW SPOT: Dan Forest Will "Get You Sick" and Leave You With the Bill
Even a pandemic won't change Forest's mind on expanding Medicaid
RALEIGH — Today, Cooper for NC released a new spot, "Get You Sick," highlighting Dan Forest's dangerous indoor campaign events and his continued opposition to Medicaid expansion, a position that denies health care coverage to over half a million North Carolinians.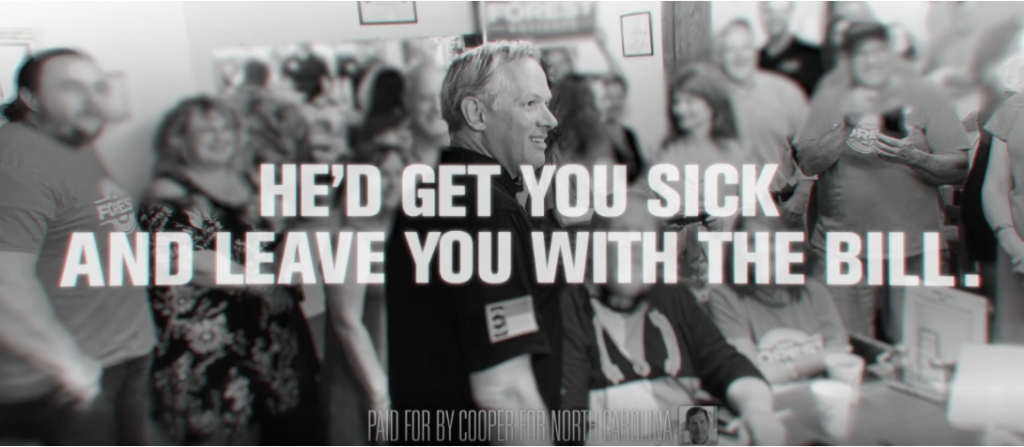 During the pandemic, Forest has held many indoor campaign events without mask wearing or social distancing. Instead of heeding the advice of public health experts, he and his campaign plan to "shake as many hands as [they] can" and continue in-person fundraising.
Medicaid expansion would provide health care coverage to over half a million North Carolinians, create 40,000 jobs, boost the economy by $4 billion, and benefit rural hospitals at no additional cost to the taxpayer.
Liz Doherty, Cooper for NC spokesperson, said, "Not even a pandemic will change Dan Forest's mind on his opposition to Medicaid. Instead, he's focused on putting North Carolinians in harm's way and has no qualms about getting people sick and leaving them with the bill."
TRANSCRIPT:
What's worse than Dan Forest holding indoor fundraisers without masks?
How about denying you health care if you got sick at one of them?
Dan Forest is against expanding Medicaid for half a million North Carolinians. 
Even people laid off during the pandemic.
39 states have expanded Medicaid, including Indiana when Mike Pence was governor.
But Dan Forest says no.
He'd get you sick and leave you with the bill.
###