FOR IMMEDIATE RELEASE:
Wednesday, August 26, 2020
CONTACT: Liz Doherty
Washington Post: "N.C. Lt. Gov. Dan Forest suggests Biden 'probably won't make it' to Inauguration Day 2021"
"Few [Republicans] have gone as far as Lt. Gov. Dan Forest (R), who suggested at a campaign event Sunday that Biden might not live to see Inauguration Day 2021."
In Case You Missed It… The Washington Post highlighted a jarring, offensive comment from Lt. Governor Dan Forest over the weekend at an indoor, maskless campaign event where he said that Vice President Joe Biden "probably won't make it" to Inauguration Day.
Here's the full quote:
"Could you imagine having Kamala Harris as president of the United States? 
I mean, we all know that Sleepy Joe probably won't make it to January 20th. 
So Kamala Harris, good chance she could be your president."
The Post noted that while attacks on Biden for his age have become a go-to Republican talking point, despite the fact that Biden is just three years older than President Trump, "few have gone as far as North Carolina Lt. Gov. Dan Forest."
When he officially kicked off his campaign last summer, Forest claimed his campaign would be defined by themes of "unity, opportunity, possibility," but he's proved time and again he has failed to uphold this empty "resolution to be civil." 
Forest made the remark about Biden's age at "an indoor rally where many attendees appeared not to be wearing masks." This rally is one of many indoor campaign events that Forest has held during the pandemic. Recently, Forest announced his campaign will "shake as many hands as possible" and continue in-person fundraising, adding "it will be a lot more of this." He continues to spread dangerous misinformation about the virus, falsely claiming that "masks do not work with viruses." 
READ MORE: Washington Post: "N.C. Lt. Gov. Dan Forest suggests Biden 'probably won't make it' to Inauguration Day 2021," By Felicia Sonmez, August 25, 2020.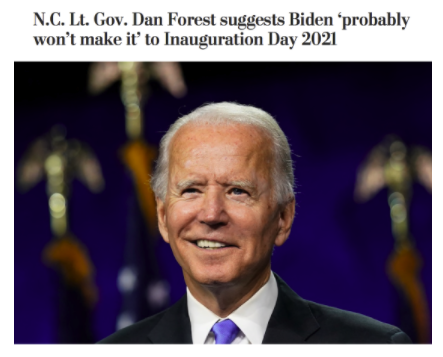 READ.
###