FOR IMMEDIATE RELEASE:
Wednesday, August 5, 2020
CONTACT: Liz Doherty
NEW SPOT: "Indoors" Highlights Dan Forest's Dangerous In-Person Events
RALEIGH — Today, Cooper for NC released a new spot, "Indoors," highlighting Dan Forest's blatant disregard for public health guidance during the pandemic as he has held at least sixteen indoor campaign events with no masks or social distancing.
Forest returned to in-person fundraising weeks ago. Last weekend, Forest indicated his plans to continue to hold in-person fundraisers and events, and told a reporter, "It will be a lot more of this."
In addition to holding indoor events, Forest said, "masks do not work with viruses" — a reckless claim PolitiFact rated "false" last month. On Monday, he doubled down on this claim, "For decades now, people have said that y'know, there are a lot of scientists and science that says masks aren't effective during these viruses."
Liz Doherty, Cooper for NC spokesperson, said, "Dan Forest as a candidate is too dangerous for North Carolina as he continues to spread misinformation about the virus and prioritize his campaign over the health and safety of North Carolinians. We can't risk him being governor."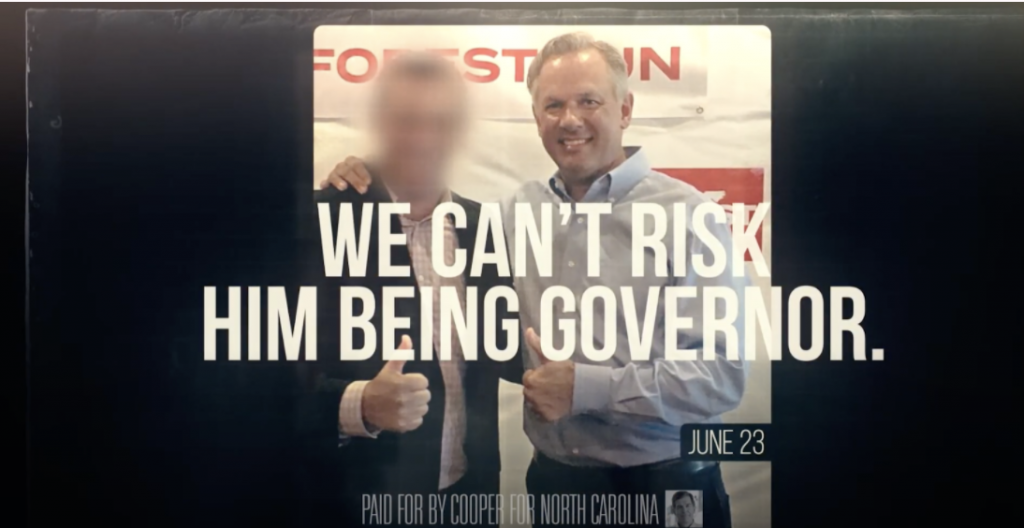 TRANSCRIPT:
Dan Forest is running for governor.
And since June, he's held at least 16 indoor events during the pandemic.
Hundreds of people, with no masks, no social distancing, because what does Dan Forest think of masks?
[Newscaster]: Dan Forest said masks do not work with viruses, and that's just not true.
If Dan Forest is endangering us just running for governor, we can't risk him being governor.
###