FOR IMMEDIATE RELEASE:
Tuesday, September 22, 2020
CONTACT: Liz Doherty
Cooper for NC Launches First Statewide Radio Spot "Show Up"
While Dan Forest puts North Carolinians in harm's way, Governor Cooper has shown up for them.
RALEIGH — This week, Cooper for NC launched its first radio spot, "Show Up," which highlights Dan Forest's reckless disregard for health and safety on the campaign trail and his opposition to Medicaid expansion.
Forest has spread lies about COVID-19, held numerous indoor campaign events with no safety precautions, and remains opposed to expanding Medicaid blocking coverage for over half a million North Carolinians.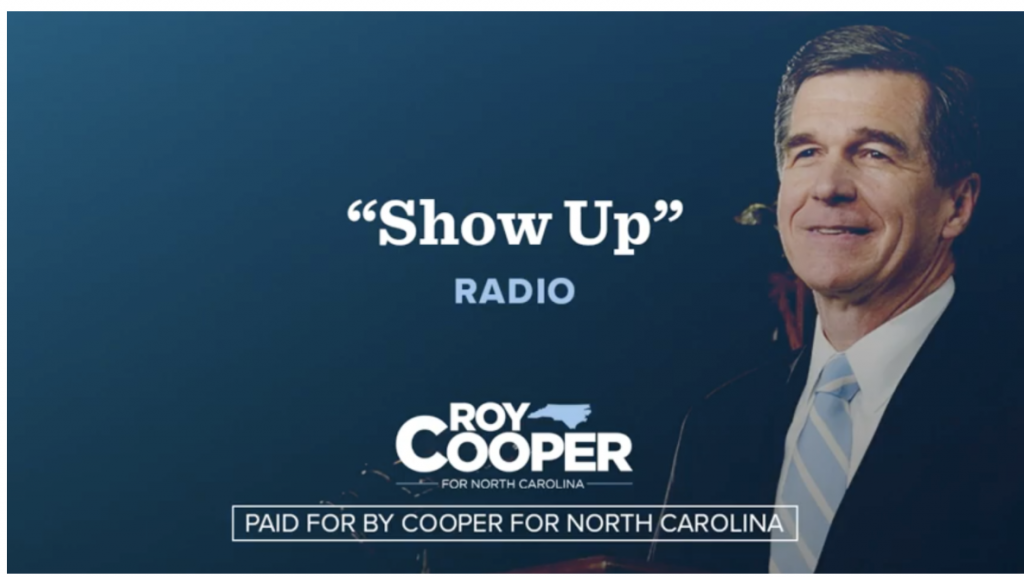 Forest falsely claimed that "masks don't work with viruses." He has held numerous indoor campaign events with no masks or social distancing. He has disregarded public health advice, with a goal to "shake as many hands as we can" and hold more in-person fundraisers.
Forest continues to endanger North Carolinians with his spread of misinformation and indoor campaign events, and his refusal to expand Medicaid blocks health care coverage for over 500,000 North Carolinians. Medicaid expansion would create 40,000 jobs, boost the economy by $4 billion, and benefit rural hospitals at no additional cost to the state. 
Liz Doherty, Cooper for NC spokesperson, said, "Dan Forest continues to put politics over health and safety. North Carolinians deserve a governor who will show up for them."
TRANSCRIPT:
Republican Dan Forest thinks that Donald Trump is doing a great job. And just like Trump, Dan Forest is spreading lies when COVID continues to spread and hurt our community the hardest.
Trump and Dan Forest have both downplayed this pandemic, while campaigning at crowded events with no social distancing and no masks.
And in the middle of a pandemic, Trump and Dan Forest are still opposed to Medicaid expansion, denying 500,000 North Carolinians health care. 
Well enough is enough.
We must re-elect Roy Cooper for Governor. He's protecting our families' lives, not risking them like Dan Forest.
Roy Cooper has been fighting to expand Medicaid so that more than 500,000 North Carolinians have health care. And he's worked to find ways to eliminate health inequalities and create economic stability for all of us.
So let's get ready. Because they will try to keep us from voting. We need to show up and vote Roy Cooper for Governor. Just like he's shown up for us.
###